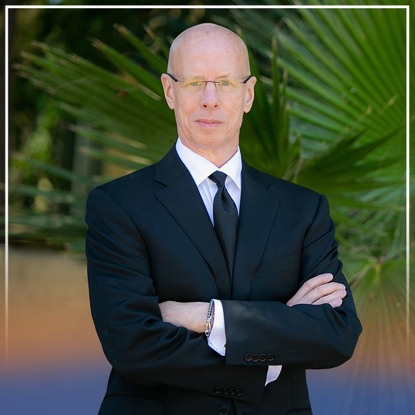 W. Douglas McKeague Divorce and Family Lawyer
Bio
About Attorney W. Douglas McKeague
Trusted Attorney in Orange County Since 1981
W. Douglas McKeague has been practicing divorce and family law exclusively in Orange County since 1981. There is absolutely no substitute for experience. With more than 4 decades of experience devoted to family law and divorce cases, he is considered to be one of the most respected and most skilled divorce and family lawyers practicing in Orange County today. He has successfully settled hundreds of cases and has gone to hearings and trials, routinely achieving outstanding results on behalf of his clients.
A Message From Attorney McKeague:
"Each client is different, each case is different, and each client has unique and different needs. Clients need an effective and seasoned attorney who can provide quality representation and an attorney who has the gift to be able to listen to the specific and individual needs of each particular client. Each client is entitled to an attorney that can be strong and aggressive, yet caring and compassionate to each particular client's needs.

More importantly, each client is entitled to the support and patience that he or she requires and deserves, as the client attempts to navigate what may very probably prove to be the single most difficult emotional experience of his or her life. I consistently strive to provide that level of representation and support."
Need answers? Schedule a free initial consultation today by calling (714) 888-4830!
More Than Four Decades of Divorce Experience
Skilled in the art of advocacy, Attorney McKeague can provide the effective representation, confidence, and insight that family law cases require, regardless of whether the case calls for settlement or litigation.
He can provide the high-caliber legal representation that clients require and deserve. Douglas has extensive knowledge, background, and understanding to help clients achieve the goals they desire. He takes extreme pride in providing comprehensive and quality advocacy for clients.
Attorney McKeague holds a license to practice in:
United States Tax Courts*
Southern United States District Court
Central United States District Court
Eastern United States District Court
Northern United States District Court
*A substantial knowledge and understanding of debtor, creditor and taxation law is mandatory in providing quality representation to divorce and family law clients.
Education & Associations
New England College, 1978 - B.A.
Western State University, College of Law 1981
Admitted to practice before all Courts of the State of California: Dec. 1981
Awards & Achievements
Top 3 Divorce Lawyers in Santa Ana from Three Best Rated, 2016, 2017 & 2018
Avvo Client's Choice Attorney for Divorce
Excellent Rating on Avvo
Professional Experience
Professional Service Responder, Orange County Sheriff's Department, 2009-present
Judge Pro Temp, Orange County Superior Court, 1993-1999

Why Hire Us? Read more about how The Law Offices of W. Douglas McKeague can help you.

"I would highly recommend Doug if you ever need a divorce attorney."

My divorce had some very unique and complicated issues that Doug has never dealt with in all his years of practicing. We even ...

"Life Saver"

I came to Doug confused and ill informed. He walked me through the process and set realistic expectations. He did not look ...

- Chris W.

"He is going to help you with this transition."

Doug gave me a chance to get my life back. He was with me every step of the way. Keep in mind, this is not Doug doing all the work, this is both of you working together as a team: A winning team for your future!

- Gregory Carson

"I now consider Doug a friend."

Doug took control of the situation and was able to get a custody agreement for me so that I was able to maintain my relationship with my kids.

- Jack F

"I would HIGHLY recommend Doug for any divorce and child support needs."

He helped me do exactly what I wanted, with invaluable advice and guidance through my divorce.

- Nicole Conner

"Attorney McKeague represented me in my divorce case and the process was painless and smooth"

He was always attentive and wanted only the best for me and my son. He was caring. After the court appearance, he even made sure I was safe in my car before he drove away from the parking lot.

- Jeanette C.

"...an attorney with skill, experience and willingness to fight for you at trial if necessary"

I know first hand that Doug McKeague is such an attorney.

- Kurt N.

"Mr. Mckeague delivered a 100% win for me and he worked with me every step of the way, so I never felt scared or alone in the process. "

Mr. Mckeague delivered a 100% win for me and he worked with me every step of the way, so I never felt scared or alone in the process.

- Kathleen Coyne-Boyles